ESPALMADOR-ILLETES-CALA SAONA- CUEVAS CALA SAONA-IBIZA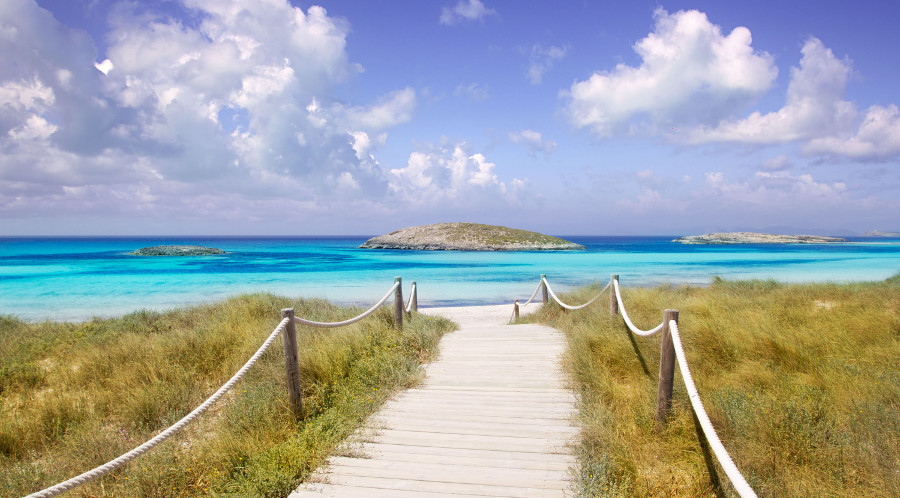 Schedule: 10 a.m. to 8 p.m.
Price: from €590 (boat, skipper and fuel)
Places: maximum 5 people
It is the perfect sea route to fill a single day. You can choose from our selection of yachts, sailboats and motorboats. All our boats are perfect for this route, which sets off from the city of Ibiza to tour the most beautiful beaches on the west of Formentera. You will find some of the most spectacular caves on the coast of Formentera on this route. Its steep cliffs foster the flowering of an authentic Mediterranean underwater garden. Anchoring in its surroundings and letting yourself be rocked by the waves while snorkelling is an experience that we guarantee will stick in your memory and soul for years to come.
What to expect
We will set out from the port in Ibiza. If you have hired a skipper for your boat, they will be waiting for you at the port. All our boats are available with or without skipper.
You have crossed es Freus, that no-man's-land, where the calm waters around the Pityusic islands get a little more choppy, getting the boat ready for rougher seas, having a little fun. It'll only take a few minutes. Immediately after, we return to calm waters and catch sight of sa Torreta, the small cove on the islet of s'Espalmador. We slow down to enjoy the first of our stops in the heart of the ses Salines Nature Reserve. We can enter s'Espalmador in the boat until we reach the beach where we can dock. You may fancy swimming the last few metres into this cove because the perimeter is well marked.
Our next goal is to reach the beautiful Illetes, considered one of the most beautiful beaches in the world. Illetes is a spit, open to the waves to both east and west. If it's a bit windy, its privileged orientation gives us several options to choose from for the ideal spot to anchor. It's the ideal time to try out one of the many restaurants that offer dinghy service. We fell in love with the turquoise blue waters of Formentera a long time ago. It's easy to see the seabed from deck, the Posidonia swaying and countless fish in their natural habitat. Our next stop is Cala Saona, one of Formentera's most charming coves, from where you can see the magical islet of es Vedrà. From Cala Saona, we head south to stop for a leisurely tour around its unique ecosystem of caves and cliffs. It's time to take out our snorkelling gear. Without realising it, the time has come for us to set off on our way back.
Marina Ibiza in the Port of Ibiza.
The recommended schedule for this route is from 10 a.m. to 8 p.m.
Drinks, snorkeling equipment and towels