IBIZA-SALINAS-CALA JONDAL- PORROIG-ES VEDRÀ IBIZA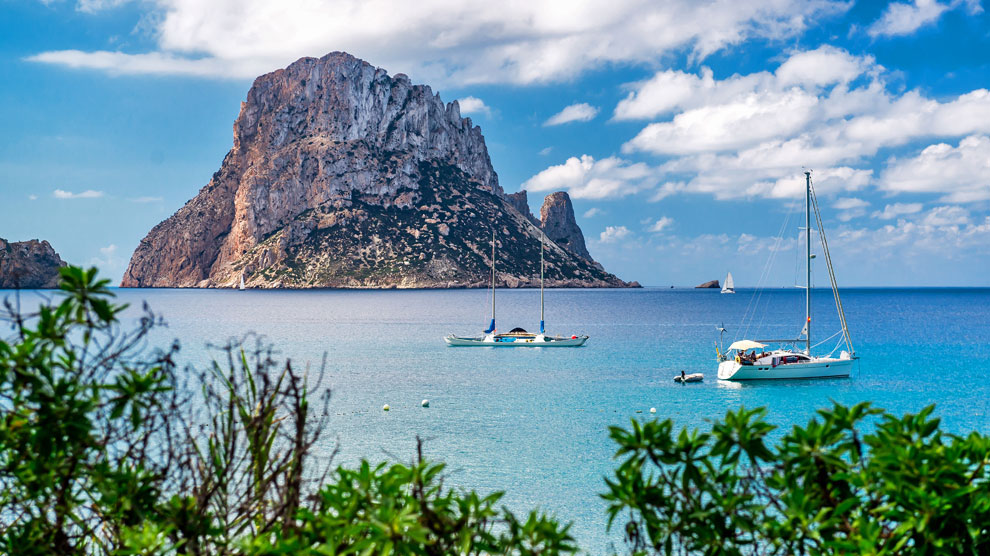 Schedule: 10 a.m. to 8 p.m.
Price: from €590 (boat, skipper and fuel)
Places: maximum 5 people
On a yacht, motorboat or sailboat, discover the south of the island of Ibiza.
The southern route of Formentera brings together some of the most beautiful landscapes of the Balearic Islands. Not for no reason is the silhouette of the magical islet of es Vedrà, next to the beautiful outline of the city of Ibiza, one of the most visited and photographed places in the Mediterranean. And there's no better perspective than from the bow of one of our ships.
Ses Salines beach, located in the heart of the Natural Park. Its turquoise waters, also protected, owe their incredible colour to the Posidonia oceanica. Its bars and restaurants are a must for the beautiful and famous people of the island. It is the coolest beach, but also one of the most beautiful. Ideal to disembark, take an unhurried dip or order brunch at one of the beach restaurants with dinghy service.
Between ses Salines and es Vedrà we find Cala Jondal, a small, beautiful and sheltered cove that also houses some of the best known beach clubs on the island. Its location, halfway to our destination, makes it an ideal place to stop for a quick lunch.
But if you're looking for peace of mind, you might prefer to stop at es Porroig. A quiet and rocky cove with small shipyard houses in which to anchor whilst you take a dip.
What to expect
We will set out from the port in Ibiza. At Marina Ibiza, your boat and your captain will be waiting for you, if you so choose. Once on board, we will skirt the city and leave Figueretes and Platja d'en Bossa behind. The Torre de sa Sal Rossa is a sign that we are leaving behind the more urban beaches to enter the heart of the Natural Park.
First is Cavallet and, shortly after, ses Salines. It's mid-morning, the perfect time for a little sport, a swim or scuba dive in the clear waters of one of Ibiza's most beautiful beaches.
Our boats are equipped with all the amenities for a perfect crossing: solarium, cabins, kitchens, kitchens, bathrooms... Everything you need for a day or a few days, letting yourself be rocked by the waves. Our boats have everything you need to only make the stops you want to make. We also have a wide range of nautical toys for you to enjoy.
We stop at Cala Jondal for lunch and continue to es Porroig. We still have time to sunbathe and relax on deck.
Last stop is Vedrà.
Almost without realising it, it's mid-afternoon. There's still time left. A little snorkel? We discover the bottom of Cala d'Hort in front of the imposing es Vedrà islet. A must-see. Some photos, a swim or simply gazing at the skyline of the magical islet with a glass of cava in your hand. One last dip in the sea.
We return to port with the sensation of having discovered the meaning of life in its most positive sense. A perfect day.
Marina Ibiza in the Port of Ibiza.
The recommended schedule for this route is from 10 a.m. to 8 p.m.
Drinks, snorkeling equipment and towels