Ibiza- Playa de Levante-Punta Prima-Es Caló.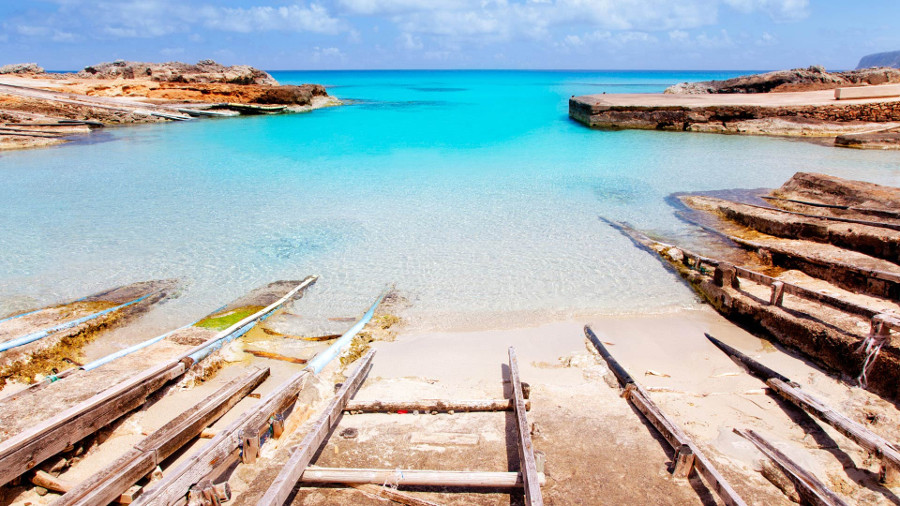 Schedule: 10 a.m. to 8 p.m.
Price: from €590 (boat, skipper and fuel)
Places: maximum 5 people
Before embarking on our route, choose the boat that best suits our needs. At Islamarcharter, we have a large selection of motorboats, yachts and sailboats ideal for a day charter like this. The proximity of the island of Formentera to the port of Ibiza where we embark - just 35 minutes away - makes it the perfect route for a daytrip on a boat.
What to expect
The first surprise of this route is the journey between the two Pityusic islands. We will enjoy one of the most beautiful panoramic views of Ibiza during this crossing. Shortly afterwards, we will begin to appreciate how the colour of the sea changes between the two islands despite the few miles that separates them.
The beach of Levante or Llevant is our first objective. As we approach, we can see how the water takes on the unmistakable turquoise colour of the smaller Pityusic island: this Formentera blue is only possible thanks to the concealed work of the meadows of Posidonia oceanica. There is no doubt, around Formentera the sea is bluer and the sun is always a little warmer (it is essential to wear protection). Along the coastal kilometres of the Levante beach with fine white sand and small rocky outcrops, it is common to encounter some swell. We like to recommend this route when there is a westerly wind. This is the only wind that softens the waves of this tumultuous beach.
Perhaps for this reason, this beach, which is very popular in the summer, has many lifeguard services and plenty of surveillance. It's time to relax a little bit by snorkelling as you are in the heart of the Nature Reserve, water sports such as skiing or wakeboarding are prohibited on this beach.
Underway once again, we spot the beautiful cliffs of Punta Prima. Along the route and until our last stop in es Caló, we find small coves with fine white sand where you can drop anchor at will.
We arrive in es Caló just in time for a bite to eat, which means we can enjoy some of the may restaurants available that offer dinghy service. This small cove with crystal clear waters is surrounded by artisanal boatyards and small fishing boats. We will be able to enjoy the sensation of having discovered the true essence of the island. It is an authentic experience that will remain in our memory long after the short trip back has finished.
Marina Ibiza in the Port of Ibiza.
The recommended schedule for this route is from 10 a.m. to 8 p.m.
Drinks, snorkeling equipment and towels